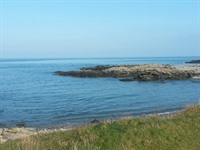 The Sportsmans Lodge has free range hens, ducks and geese which provide eggs for the breakfasts. There are also two cats, 2 stray cats and a dog which live at the Lodge.
The aim of the owners of the Sportsmans Lodge is to provide a relaxed informal atmosphere to enable guests to unwind and thoroughly enjoy their break, (we are not responsible for the weather!) and to be able to help and assist in suggesting places of interest, offering maps and knowledge of the area to enhance travelers stay.
There is a bench outside to enjoy the afternoon sun which looks towards Snowdonia Mountain Range. There is a flower garden to the rear of the property in which guests can enjoy the setting sun, the tranquility and birdsong. Tea can be provided in the garden if requested.